Spring Tune-Up at Nissan Brunswick
Excited because the weather is starting to get warmer? If so, you are probably looking forward to your next road trip. Are you sure your car is ready for this adventure? It is time for you to get a Spring tune-up for your vehicle.
At Nissan of Brunswick, we are here to provide routine services that can keep your car on the road, making sure it runs efficiently. Learn more about the service packages we offer, and make sure you take care of your vehicle!
Common Services From Nissan of Brunswick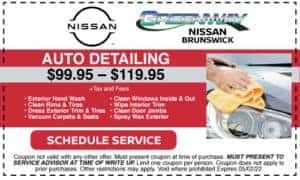 At Nissan of Brunswick, our goal is to be your one-stop-shop for all of your vehicle service needs. The exact service your vehicle requires will depend on the number of miles it has; However, there are a few common tasks that we perform regularly:
Oil Change and Tire Rotation: One of the most common services that we perform is an oil change and tire rotation. An oil change is important for making sure your engine operates efficiently. It can help you maximize your fuel efficiency. Furthermore, we rotate your tires to make sure they wear evenly. This is critical for making sure you maximize the number of miles you get out of them.
Brake Check: We will also check your brakes for you. For example, we will check your brake fluid to make sure it does not need to be refilled or replaced. We will also check your brake pads to make sure you still have plenty of life left on them. That way, if you have to stop short, your brakes will respond accordingly.
Spark Plugs: We will also check your spark plugs to make sure your engine and your electronics are working efficiently. From time to time, you might need to have your spark plugs replaced. Our team can make sure you have working spark plugs.
We will always review your recommended maintenance checks with you. That way, you know exactly what to expect each season.
Why Routine Maintenance Matters
If your car is working well, you might be wondering, why is routine maintenance important? Some of the reasons why you need to get a tune up this spring include:
You need to make sure everything is working correctly. Just because you don't notice something is wrong doesn't mean your car is operating at peak efficiency.
Do you plan on upgrading to another car in the future? If so, you need to get as much money as possible for your vehicle when you trade it in. Investing in routine maintenance can help you protect the value of your car.
Routine maintenance can also help you prevent problems from developing with your car in the future. You might be able to avoid some extensive repair bills.
Make sure you schedule your spring tune-up appointment with Nissan of Brunswick.
Partner with the Nissan of Brunswick Team
If you are looking for the best team to help you service your vehicle this spring, then look no further than Nissan of Brunswick. Some of the reasons why you should partner with us include: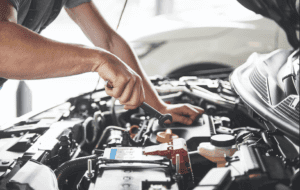 We follow all the best practices in our field to make sure your vehicle receives the attention it requires.
We know that your time is valuable. We always want to get you in and out as quickly as possible without sacrificing the quality of our service.
We will do everything we can to ensure your vehicle operates efficiently, helping you save money.
For these reasons, count on the Nissan of Brunswick when it is time for you to get a spring tune-up.
Schedule Your Spring Tune Up From Nissan of Brunswick
At Nissan of Brunswick, we understand that you are busy, but it is important for you to take care of your vehicle. If you take care of your car, it will take care of you.
Our mechanics have a lot of experience working with a wide variety of Nissan models. We are confident that we have the training and experience necessary to help you keep your car on the road. If you want to maximize the value of your vehicle, schedule your spring service appointment with Nissan of Brunswick today!