Nissan Navigation Update Instructions
When you are behind the wheel of your Nissan in the Dock Junction area, you want to be able to trust your navigation — and that means keeping your Nissan navigation system updated. You might be tempted to use your smartphone, but keeping your Nissan navigation system updated is easy and gives you access to:
Built-in directions that don't depend on your phone signal
Storage for nearly 50 contacts and locations for more convenience
Current traffic updates
But how do you update your Nissan navigation system to account for new roads or updated ramps to and from the highway? Greenway Nissan of Brunswick is here to help keep you from getting lost whether you're near or far.
Update Nissan Navigation With the Map Update Tool
The answer to how to update Nissan navigation depends on your Nissan vehicle. To determine which navigation system your vehicle has, take a look at this handy guide. You can use the Map Update Tool application to add, remove, or update the contacts and locations you have stored via USB stick. Watch for a pop-up window that will let you know when you can purchase updates in addition to a list of updates already installed on your Nissan navigation system.
After downloading the Map Update tool to your Mac or PC, follow these steps to perform a Nissan navigation update.
Open the Map Update Tool application on your computer, and insert your USB stick.
Select "Map Updates," then select "Update Map" next to each map that you want to update. You are able to update and download multiple maps at a time. You can also cancel a download by selecting "Cancel."
After downloading the map, remove the USB stick and then insert it into your vehicle's navigation system. You will then be prompted with directions on the screen.
Using Nissan Door-to-Door Navigation
Wondering how to use the Nissan navigation system? There are a wealth of features to explore, such as Nissan Door-to-Door Navigation. This feature helps you remember your vehicle's location once you have parked. What's more? It can also send you notifications and a map to assist you in locating your vehicle. A Bluetooth connection with your phone is required for this feature to work. Activate Bluetooth under the "Connections" settings of your device so that your vehicle and phone are able to communicate with each other.
Learn More About Nissan Technology
If you are still wondering how to use the Nissan navigation system or any of the other advanced tech features on your Nissan vehicle, do not hesitate to contact the experts at Greenway Nissan of Brunswick. We would be more than happy to show you how to use these innovative features so you can make the most of your drives in St. Simons.
Greenway Nissan of Brunswick
231 Chapel Crossing Road, Brunswick, GA
Service: (912) 264-3825
Birthday Special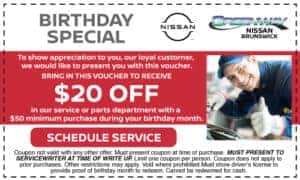 ---
More From Greenway Nissan of Brunswick
The Nissan Altima returns for 2022, marking its 29th year of production since it was introduced in 1993. This nearly 30-year-old nameplate has proven it's got staying power with its frequent updates and refreshing provided by Nissan. At Greenway Nissan of Brunswick, we offer a large selection of 2022 Altimas for you to check out,…

If you are looking for a new vehicle in Brunswick, Georgia, then you should explore the 2022 Nissan Frontier. This is one of the safest and most powerful trucks to hit the market, and it can be exactly what you and your family need. At Greenway Nissan of Brunswick, it would be our pleasure to…

Excited because the weather is starting to get warmer? If so, you are probably looking forward to your next road trip. Are you sure your car is ready for this adventure? It is time for you to get a Spring tune-up for your vehicle. At Nissan of Brunswick, we are here to provide routine services…