A Glance at The New 2022 Nissan Altima
The Nissan Altima returns for 2022, marking its 29th year of production since it was introduced in 1993. This nearly 30-year-old nameplate has proven it's got staying power with its frequent updates and refreshing provided by Nissan.
At Greenway Nissan of Brunswick, we offer a large selection of 2022 Altimas for you to check out, no matter if you've stuck with the brand since its introduction or are looking to buy one of the most reliable cars ever manufactured.
The 2022 Nissan Altima Delivers an Enjoyable Driving Experience While Handily Carrying Your Cargo
Nissan has created an interior technology system called Nissan Intelligent Mobility that saves information and responds to your needs at the touch of a button. The conveniences begin with a remote key fob that readies the temperature of the cabin before you get into the car. Turn on the available heated front seats and you're sitting in comfort before you even put the Altima into gear.
Add in a heated steering wheel to help you keep your hands warm. Another helpful feature of the 2022 Nissan Altima is a Rear Door Alert system that lets you know you've left something in the back seat when you park and get out of the car. No more leaving something behind that you want to take with you.
The trunk of the 2022 Nissan Altima delivers up to 15.4 cu ft of cargo room when the rear passenger seats are in place. However, put the 60/40 split rear seats down and you get 42.9 cu ft of cargo space that handily accommodates longer items. Both rear seatbacks move independently of one another, allowing you to configure the storage as necessary. Nissan also offers handy cargo blocking accessories that help you keep your items in their place as you drive.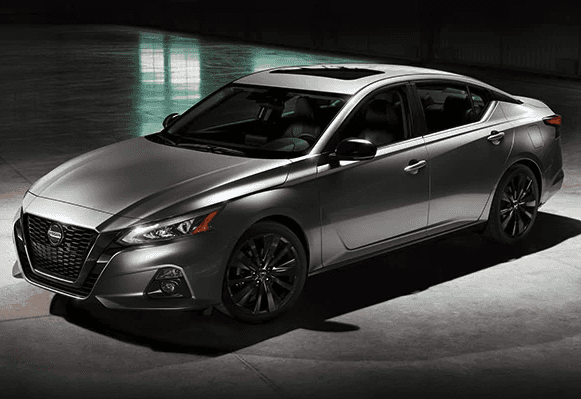 The 2022 Nissan Altima trim levels include:
S
SV
SR
SR Midnight Edition
SR VC-Turbo
SL
How the 2022 Nissan Altima Keeps an Eye Out for Your Safety
The Altima has won awards for its innovative safety features that keep an eye on the road in areas that you don't always see as you're driving. The Altima Safety Shield 360, available on trim levels SV and above, keeps watch on the road in front, side, and rear as you drive.
There's a rear automatic braking system that looks for stationary and moving objects and brakes the car automatically before you have a chance to get to the brake pedal. It also has a Blind Spot Warning when it detects a vehicle hanging out in an area of the car you can't see with your mirrors.
Another system, known as the ProPILOT Assist, keeps the 2022 Nissan Altima at a safe distance from other cars while in traffic and centers your car in the lane when traffic is light. You'll feel secure on the road when driving the 2022 Altima.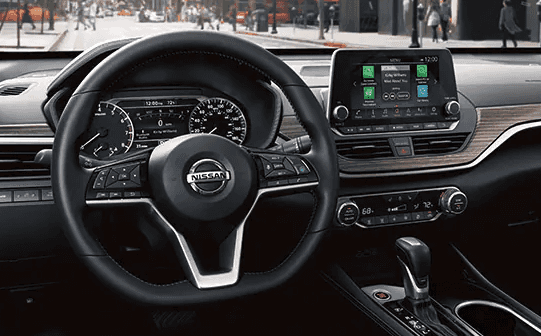 Staying Connected in the 2022 Nissan Altima
The 2022 Altima is full of technological touches that help you stay connected while keeping you safe on the road. The infotainment system consists of a touch-screen display that connects to your iPhone or Android, and convenient USB ports enable you to keep your phone and peripherals charged up.
You can use the navigation apps installed on your phone, or use the available Nissan Door to Door Navigation to get around town. The Altima also features a Hands-Free Text Messaging Assistant that reads out texts and sends pre-loaded responses through voice recognition to help you get important messages without taking your eyes off the road.
The Altima Advanced Drive-Assist Display also lets you view music track information and shows you turn-by-turn navigation in the instrument panel.
Check Out What the 2022 Altima has to Offer at Greenway Nissan of Brunswick
At Greenway Nissan of Brunswick, we stock a deep inventory of 2022 Nissan Altimas for you to check out and take for a test drive before you buy. Take a look at our inventory online and get in touch with us to set a time to come in and take one for a test drive, or show up when it's convenient for you.
We're here to help you find a Nissan Altima that works for your needs and show you other Nissans for sale if you want to explore your options. After you buy, or if you need service for your current Nissan, come see us at our service center and take advantage of our monthly specials to save money on maintenance.